The prestigious SBNS medal is awarded to UK neurosurgeons in recognition of their contribution to British neurosurgery and is Britain's highest neurosurgery honour.
Professor Aziz was instrumental in the rise in functional neurosurgery both in the UK and internationally. He studied for his MD under Professor Alan Crossman in Manchester, elucidating pathways in the basal ganglia and providing the first robust evidence that the subthalamic nucleus was a potential target in functional neurosurgery. Along with the work of Delong in the US, this catalyzed the field that has led to over a quarter of a million STN DBS procedures worldwide.
Professor Aziz started the Functional Neurosurgery Unit in Oxford and has continued to lead groundbreaking research alongside his clinical practice where he has performed over 1500 implantations. His research on the pedunculopontine nucleus (PPN) in primates also led to the PPN becoming a target in certain subtypes of Parkinson's disease. He has led the world in DBS for chronic pain, having started anterior cingulate DBS. In addition to his own accomplishments, he has supervised over 20 PhDs, numerous fellows (many of whom have started DBS services in their own countries), and countless trainees. He has set up functional units around the world, particularly in the Third World or impoverished countries, including Bangladesh, India and Ukraine.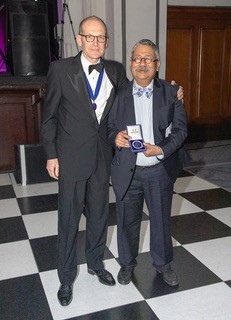 The SBNS President Neil Kitchen (pictured left) presented Professor Aziz with the medal during the Society Gala Dinner at the SBNS Scientific Spring Meeting on Thursday 21 March, held at the Principal Hotel in Manchester.
Commenting on his award win, Professor Aziz said: 'I am deeply honoured that the SBNS has awarded me the medal. It is been given to neurosurgeons who have made particularly significant contributions to UK neurosurgery over a lifetime. Particularly significant is that I am the first serving neurosurgeon to be selected. Much of the work I have done has been in Oxford and I feel it is an award both personally and to the University. Significantly to me is that a neurosurgeon Sir Hugh Cairns created the Nuffield Department of Surgery.'
The nomination was made by Professor Alex Green, Spalding Associate Professor and Consultant Neurosurgeon at NDS, who also attended the Society Gala Dinner. This year, SBNS presented two medals with Professor John Pickard from the University of Cambridge receiving the other medal, nominated by his colleague Professor Peter Hutchinson.